They're the most important part of my wardrobe, dear readers: my slippers. I wear them all day, every day, and I've tried to get some fairly businesslike models that are good for dressy or for play. But don't you ever get to wondering what else might be out there?

I do.

So I've prepared a small survey of slipper stylings for the fashionable shut in. You'll find I've created a bit of a taxonomy that may be helpful as you try to describe to your family what you'd like in a pair of office slippers. Enjoy.


The Shearling
The idea behind these fuzzy scuffs is part Grizzly Adams, part Bear Force One. Oh, wait, that's the same part. These are warm, and if they have a little plasticy sole you can probably wear them to stagger around your yard if that suits your fancy. The downside is that the creamy white inside quickly becomes a bit grey and dispirited, and you have to confront the fact that the soles of your feet may not be the cleanest part. I wonder if this style made of actual shearling would moisturize by default because of the natural lanolin in the wool. Not sure.

The Bootee Call
Mukluks are great and warm the ankles without the trouble of legwarmers. If you're troubled by legwarmers that is. And you should be. These are by Kate Spade, and I'm not sure that even my heavily slipper dependent lifestyle warrants $90 slippers. Seriously that seems like a lot. Note, too, that these have a soft leather sole that is entirely ill-suited to staggering around the yard. So stay indoors and keep programming in these bad boys.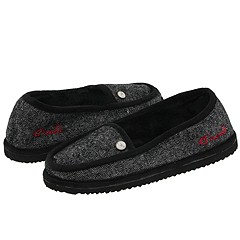 Dad's Slippers

You really should be smoking a pipe while wearing these. It seems that even having to go get them yourself rather than having them brought to you by your devoted dog is wasted effort. These remind me of my parenting nadir, when I tried to convince my oldest daughter to put down the maribou-encrusted lovelies she'd picked out in favor of the "pretty grey ones." My mother in law laughed and laughed at me that day, and rightly so. But who's laughing now: her, or the mother of a girl who would wear a Buzzcocks t-shirt every day if I didn't think it would get her thrown out of seventh grade? Right. Don't buy these kind of slippers.


The Mock-A-Sin
These will pass for shoes in many places and times, but I find they're a poor substitute for actual shoes, and lousy slippers, to boot. (Ha ha. Get it? To boot.) They tend to be under-lined, and for those of us with narrow feet, they really don't stay on that well. I understand that a certain amount of flipping and flopping is inherent in a slipper wearing situation, but these are just not that great a choice, it seems to me. But maybe if they were beaded? No, still no.

The Zsa-Zsa
These slippers scream fabulous. They also cry out for a bit more attention to your telecommuting caftan than maybe The Shearling might. They'll work well with animal prints, velvets, sequins, bugle beads, satins -- none of which I wear to my home office. Still, it might be nice to have something a bit fabulous for when you have company. You could probably wear these on trips to the real office, too. Maybe not.
All photos: Zappos. Go there and buy something if you like. Help the economy!